Our program is a gateway to a more healthy and positive life. It gives you the motivation
and guidance to make a real lifestyle change and stay in control of your health and
reach your ideal weight.
Feel like never before in less than 2 months…
ready for the challenge?
If you are considering join the "Stargut Wellness Program" you are to be congratulated! You're about to make a decision that will change your life in just 7 weeks, with more health, energy, disposition, and self-esteem. By fulfilling the various challenges of the three phases that we propose, you will make peace with your body, through the repair and rebalancing of your Microbiome and Gut Microbiota.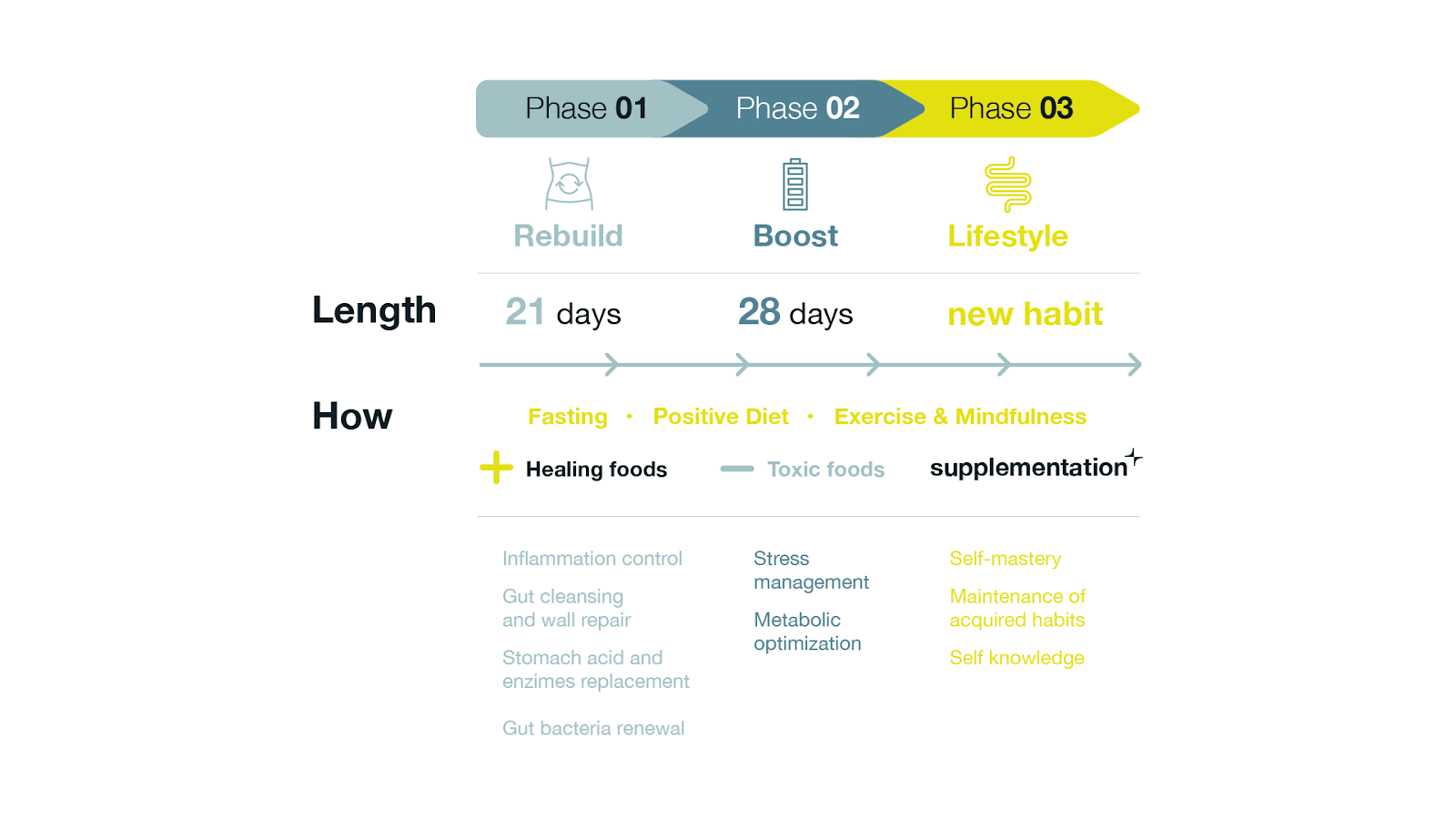 Welcome to your new, healthier, younger and happier self!
What do you get with your STARGUT program?
7 week personalized program
Initial evaluation and respective report
Intermediate evaluation and respective report
Final evaluation and respective report
2 on-line sessions with a "STARGUT Health Coach"
Daily support by email or WhatsApp during the 7 weeks
Information and support documents for all program weeks
Educational content
Recipe book
The "Stargut Wellness Program" promotes the cleansing, repair, renewal and rebalancing of the Gut Microbiota with several benefits. To achieve this goal, it adopts a strategy based on three axes of functional medicine and a sequence of small challenges, so that in less than 2 months you will feel like new!
Fasting is a way for our body to get into balance (homeostasis) and manage to repair structures, since digestive processes do not occur. Scientific evidence tells us that fasting is associated with gut health, as well as having a beneficial effect on the immune system, promoting autophagy.
The human body is prepared to adapt to the lack of food and not to the frequency of eating we have nowadays. Our bodies have a set of unique proteins that are expressed or activated during the period of fasting and that are related to better brain performance and optimal survival of different parts of the body.
Imagine that your body is a dishwasher, if you constantly interrupt it, it will not complete its entire cleaning cycle. The same goes for our body.
We can then conclude that fasting can have very powerful effects on your body. From weight management and cellular cleansing to improved digestive system and mental clarity, fasting can offer a number of benefits. But what actually happens in your body, hour by hour, while you're fasting?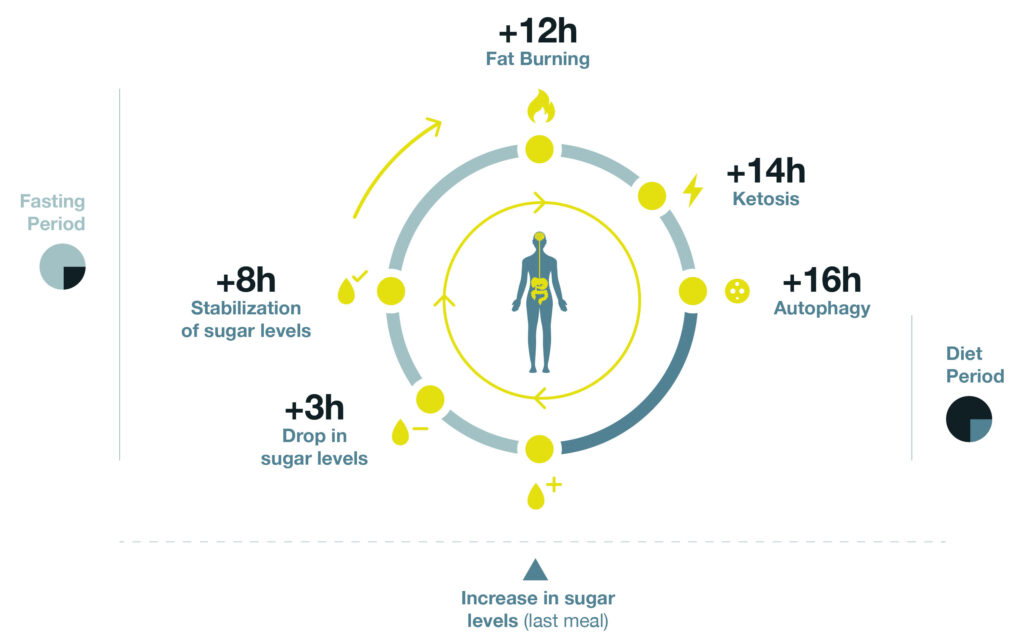 From the moment we finish the last meal:
We all know that there are foods that are harmful and others that are healthy… but there are some, unsuspected, that contribute to the destruction of the Microbiome and others that are authentic "workers" in the recovery of our health.
What we eat determines which bacteria we have in our Gut Microbiota, because it is through food that we nourish these organisms present in our gut, whether good or bad. Certain types of foods can be a powerful way to increase the number of beneficial bacteria.
The ingestion of foods rich in fiber, in polyphenols, fermented and with probiotics and prebiotics, is a highly effective strategy to positively change the composition of the Microbiome and Gut Microbiota.
Moving regularly is very important, whether in the form of physical exercise or just walking, what really matters is to avoid a sedentary life that most of us unfortunately have and that harms our health so much. Likewise, "calm" and "intellectual and mental rest" are moments that should become routine. Both are equally important, they contribute to the balance of our Microbiome, therefore to our general well-being.
The practice of physical activity is closely associated with the increase in the number of beneficial microbial species and the enrichment of microbial diversity, as well as the synthesis of short chain fatty acids (SCFAs).
High levels of stress can have harmful effects and cause the body to release the hormone cortisol. In the gut, stress can increase sensitivity, reduce blood flow and change the diversity of bacteria, increasing harmful bacteria and reducing beneficial and friendly bacteria.